Fertiliser carrier
Vermiculite G as a fertiliser substrate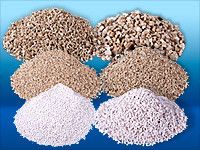 Vermiculite G is an aluminium-iron-magnesium-silicate which belongs to the mica group of minerals. It contains lots of valuable minerals and supplies plants with trace elements, especially with iron, silicon and magnesium.

Vermiculite G is an accordion-like granulate with millions of tiny layers of air in which water and especially nutrient ions can be stored (up to 600%) and given to the plant roots as required (exchanging ions).

Vermiculite G as a substrate in containers (plastic sacks, tray etc.) Filled and supplied with the controlled nutrient and solution is suitable for plant cultures in any types of soil (hydroculture).
Physical properties
| | |
| --- | --- |
| Hardness | 1.5 - 3 n.d. Moh scale |
| Granulation | K0, K1, K2, K3, K4 |
| Vol. weight dry | 70-160 g/l |
| Vol. weight moist | 427 - 450 g/l |
| Water content at water saturation | 449 - 531 ml/l |
| Air content at water saturation | 408 - 503 ml/l |
| Pore volumes | 939 - 952 ml/l |
| PH value | approx. 7.5 |
| KAK (cation exchange capacity) | 70 mmol/z/100g Vermiculite |