Hapuflam® Penetration seals System "EASY"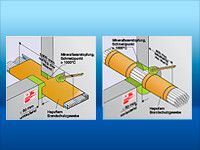 There is no more overcrowding when penetration seals
are applied.
• up to 100% cable occupation
• cable lines of metal can also be conducted through the penetration seals
• no cable coating
• easy fitting
• no building site equipment necessary
• extremely clean application
• penetration seals are possible in two standard colors

Approval:
European technical approval ETA-12/0566
(valid until 03.02.2018)
Fire resistance classification according to EN 13501-2:
2007 + A1:2009

Classification:
EI 90/E 90

Compartmentalization for walls:
Thickness > 100 mm

Wall quality:
Concrete, aerated concrete or masonry with a minimum
density of 650 kg/m³

Cabel trays:
B x H 200 mm x 100 mm up to 500 mm x 60 mm

Cable bundles:
D = 100 mm

Conduct the lattice through the wall resp. flush closing.
Close the gabs up to 5 cm with mineral wool (melting point >1000°C).