Isoperl 5
the ecological and physical alternative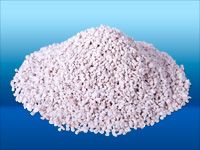 Isoperl® - 5 is a grained, heat and sound insulating levelling bulk on a Perlite-basis for levelling masses under mastic asphalt and wet screed.
Protects against heat / cold / noise and fire
Authorisation Z-23.11-1243
Not self-bearing dry fillings for interiors in new and old buildings
Thermal insulation for floors and ceilings
Step noise dampening under floating screeds
Pour-level-ready
Does not attack other materials, especially metal
Height levelling without cutting and waste
Natural advantages
Anorganic, because it is a mineral
Does not rot or shrink
Safe against pests
Chemically neutral
Healthy construction
Isoperl® -2 and Isoperl® -5 are frequently used as substrates for liquids, as for white products such as milk powder products and urea, and are also approved for organic and ecological feeds.
Isoperl® is also used in formulas in which you want to achieve a good anti-caking effect (no clumps) with small quantities of additives. Due to the structure of Isoperl® it is easy to link and is therefore used as a filler in rubber processing (toothbrushes with rubber ribs with Isoperl®), abrasion coats, abrasion pastes (toothpaste for professional teeth cleaning) and in the paper industry etc.
Technical data
| | |
| --- | --- |
| Building class A1 | non-flammable according to DIN 4102 |
| Thermal conductivity value: | λ = 0.050 W/(m*K) |
| Granulation: | 0-5 mm |
| Bulk weight (approx) | 85 Kg /m³ |
Form of delivery
100 litre sack, paper or PE, Big Bag