Isoperl G
Isoperl®-G 2, Isoperl®-G 5 for ecological gardening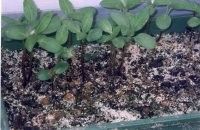 Isoperl®-G for use in the agricultural sector. The special structure of the individual Isoperl® grain is produced from the natural stone, perlite, without chemical additives which results in a balanced ratio between open and closed cells. Isoperl®-G is found in growing vegetables, plants and herbs, often used neat as a substrate without soil, whereby growing takes place in grow-bags or plant containers filled with Isoperl®-G.
Effect:
Isoperl®-G ensures health plant growth. With its high water absorption capacity and simultaneous high air pore content, Isoperl®-G allows sufficient oxygen supply and an optimal, even water saturation without producing waterlogging (prevents excess salt).

Special applications areas are gardeners who prefer to use Isoperl®-G for cutting reproduction and soil loosening.

Isoperl®-G in an appropriate ratio to plant soil - up to 50% in extreme cases - and possibly N-P-K fertiliser increase growth and the general condition of the plants.
Pure, environmentally-friendly natural product
Strong shoots
Healthy cuttings
Pleasing growth
A natural mineral - free of germs
55-65kg/m³, 80-90 kg/m³
With a pH value of approximately 7 neutral
Water storing and soil airing
Prevents waterlogging and is compatible with any soil
No plant and animal endangering fungi and bacteria
Resistant to frost and temperatures
Regulates released nutrients
Supports fine root growth
Reduces repotting shock
Long-term soil improvement
Areas of application
Gardening and landscaping
Roof gardens and roof greenery
Sport and golf courses
The plants at each stage of growth
Vegetable, verb and flower cultivation
Growth aid when planting trees
Loosening of plant soil
Plants in tubs and balcony boxes
Aggregate for improving potted and container plants
Interspersing for quick composting
Application recommendations:
Application areas
Added to plant soil in %
Open land cultures
e.g. vegetables, strawberries, herbs, summer flowers
10 - 15%
shrubs, ground covers, vines, berries, tree school cultures
20 - 25%
Glass cultures
Vegetables and cut flowers
10 - 20%
Substrate mixing
Balcony boxes, plant tubs, planted soundproofing walls
30 - 40%
Cultivation of young plants
25 - 30%
Potted plants with low soil air requirements
e.g. hydrangeas, potted chrysanthemums
20 - 30%
Potted plants with high soil air requirements
e.g. ferns, green plants and cyclamen
30 - 35%
Bedded plants
Bedded plants
30 - 40%
e.g. rhododendrons, azaleas, heather, flower soils
30 - 50%
Surface application
new grass (including sport lawns, roof gardens etc.)
20 - 40%
Grass base layers, reduced
10 - 20%
Tree planting
15 - 25%
Ground covers, shrubs, soil improvement
20 - 25%
Substrate mixing
Grass base layers
Forced mixing acc. to DIN 18035/4
15 - 25%
Light substrates for plant tubs with turf and compost
20 - 30%
with light to medium soils
20 - 25%
>with heavy soils
25 - 30%
Plant hole treatment
Added per 10 l of soil removal
30 - 50%
Typical chemical analysis
| | |
| --- | --- |
| SiO2 | 60-80% |
| CaO | 0-2% |
| Al2O3 | 12-16% |
| MgO | 0-1% |
| TiO2 | 0-1% |
| Na2O | 5-10% |
| Fe2O3 | 0-1% |
| K2O | 2-5% |
Form of delivery
100 litre sack, paper or PE