Staudt fire protection technology
Cable fire stop S90 / fire protection mortar TROMEX® or fire protection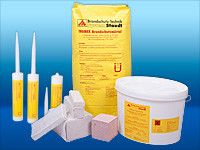 putty type FTS-K
Solid fire stop consisting of fire protection mortar TROMEX or fire protection putty type FTS-K, for separating electrical cables of all types and cables for telecommunications including light wave cables.
Fire resistance class according to DIN 4102-9:
DIBt approvals:
No. Z-19.15-800 fire protection mortar TROMEX
No. Z-19.15-195 fire protection putty type FTS-K
Areas of application:
Installation in solid walls or ceilings
Installation in light partition walls (TROMEX only)
Post-installation precautions:
Fire protection cushions (BSK / St-BSK) or
post-installation wedges (NIK / UK)
Your advantages
Mechanically steady partitions
Excellent mounting simplicity
No post-installation precautions
No coating of cables and cable trays necessary
No additional support for cable bearing construction is necessary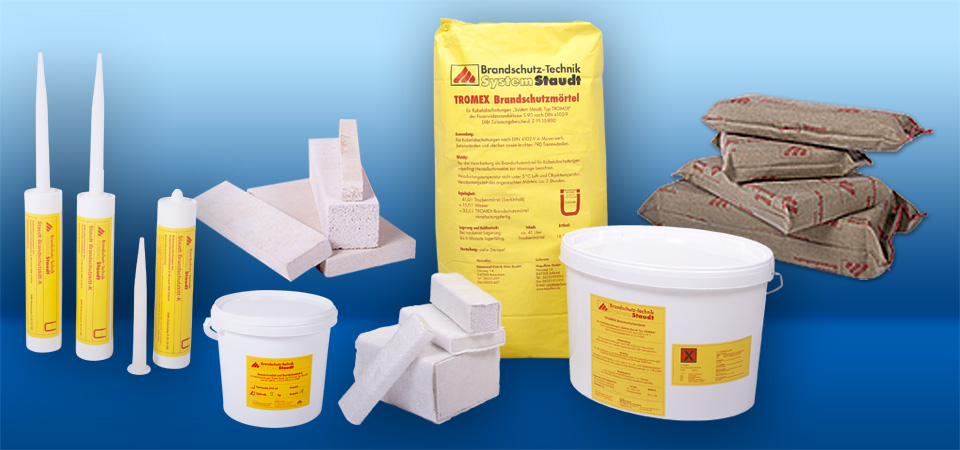 TROMEX® fire protection mortar
S90 universal use cable fire stop. TROMEX fire protection mortar is stirred without adding any additives except for water. For equipping the reserve space with post-installation wedges NIK (alternatively fire protection cushions).
Partition depth: 200mm
Fire protection putty TYPE FTS-K
S90 cable fire stop for use in areas with high cleanliness requirements. The fire protection putty is supplied in a mouldable consistency ready to use. Equipping the reserves spaces with post-installation wedges UK (Alternative fire cushions).
Fire stop depth: 200mm
Fire protection cushions
S90 separation of empty and reserve openings that are not yet occupied by cables, cuboid shaped solid form. Simple handling, laying without mortar or putty.
Fire protection putty K
Putty cartridges preferably to separate individual cable recesses, for post-installation or difficult to access areas.
Combination options
Combination of fire protection mortar and fire protection cushions or combination of fire protection putty and fire protection cushions.
Electrical installation channels set
S90 separation with Staudt fire protection putty and arrangement of post-installation wedges if necessary.
Additional benefits: soundproofing